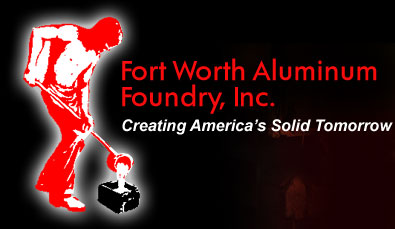 Fort Worth Aluminum Foundry, Inc. is a
Custom Manufacturer of Large & Small Aluminum Sand Castings
Using a No Bake Foundry & Green Sand Foundry
Sand Casting of A356-T6 Aluminum Gas Well Starter for a Natural Well Starter System
A client from the natural gas industry contracted Fort Worth Aluminum Foundry to cast an aluminum gas well starter. Natural gas wells produce methane, a key component of natural gas. This gas well starter possesses a steel shaft casted inside the aluminum casting. Using our advanced sand casting equipment, which met tolerances as low as ±.030 of an inch, we were able to successfully cast this part, meeting client specifications.
Employing our automatic molding machinery, we sand casted the starter, which measures 2.5 inches in outside diameter and 6 inches in length. The part also weighs five pounds. We provided each starter with a shot blasted finish and also performed T6 heat treatment on all units produced, which ensured the superior durability of each component.
Successfully casting each natural gas well starter to fulfill all of our customer's unique product requirements, we are now contracted to produce 400 to 500 units per order, 3 to 4 times per year for this client, delivering all parts to our buyer's facility located in Stafford, Texas.
Specifications
Product Name
Gas Well Starter
Product Description
This part has a steel shaft cast inside the aluminum casting
Capabilities Applied/Processes

Sand Casting
Heat Treatment

Equipment Used to Manufacture Part
Automatic molding machine 20 x 16 B & P
Overall Part Dimensions
O.D.: 2.5″
Length: 6″
Tightest Tolerances
±.030″
Material Used
A356-T6 Aluminum
Finish
Shot Blast
Estimated Part Weight
5 Pounds
Industry for Use
Natural gas wells
Quantity
400 – 500 per order, 3 – 4 times per year
Delivery Location
Stafford, Texas
Standards Met
Customer supplied print, 2D CAD Drawing