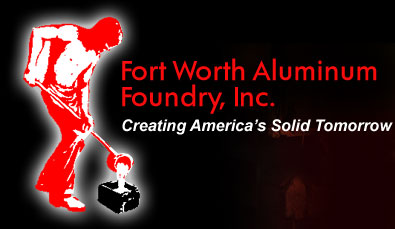 Fort Worth Aluminum Foundry, Inc. is a
Custom Manufacturer of Large & Small Aluminum Sand Castings
Using a No Bake Foundry & Green Sand Foundry
Sand Casting of A356.2-T6 Aluminum Hood for the Jewelry Industry
A client, in charge of manufacturing induction melting and casting machines for the jewelry industry, recently contracted Fort Worth Aluminum Foundry to produce several aluminum hood castings for a new investment casting machine/induction furnace. Due to problematic water passages in the casting, several units were originally not quoted. With the help of our customer's engineering team, along with other partners, we were able to further review these parts which we then redesigned to improve "castability".
One part in particular, the hood casting, caused terrible difficulties, and without this hood casting, the hood portion of the machine would have been virtually impossible to manufacture. The problem with the hood casting had mainly to do with its intricate core for water passages, and this main water passage core is the key to making this part. Provided with an SLA model, we were able to find a way to satisfactorily design a new core box needed to make this core. After several initial failed attempts, we finally discovered the techniques necessary to complete the job.
For this project, five core boxes were required. Three core boxes were made in a nobake that was set up inside flaskless frames. The two others cores were made on a Gaylord cold box using an HA international resin system. We were able to properly cast the aluminum hood using a cope and drag pattern. We also utilized a Kalpur flow control device with a horn gating system and 2 inch insulating sleeves. Meeting a ±.030 of an inch precision tolerance, we constructed the hoods to measure 20 inches in length, 15 inches in width, and 10 inches in height. The parts each weighed 35 pounds.
Another difficulty with this project involved the fragility of the core. In order to manage this issue, we had to handle the core with wood blocks in order to transport the part from the core room to the molding area. These wood blocks were also used to handle the core while setting it in the mold.
Combining our expert staff with precision casting technology, we were able to successfully manufacture 100 aluminum hoods for the jewelry industry. After production was complete, we then performed 20 PSI pressure testing to ensure the quality of the parts and delivered all units to our client's facility in Albuquerque, New Mexico.
Although this project had its difficulties, Fort Worth Aluminum Foundry was able to develop the techniques necessary to successfully produce the casting required for making these aluminum hoods. Though costs savings are not known, without this casting, we would have been unable to manufacture the hood portion of the induction furnace. Therefore, our ability to cast this part has been very valuable to our client.
Specifications
Product Name
HOOD Casting
Product Description
This HOOD is used within an Investment Casting Machine/Induction Furnace
Capabilities Applied/Processes
Sand Casting
Equipment Used to Manufacture Part

Cope & Drag Patterns
Setup for Nobake in Flaskless Frames
Kalpur Flow Control Device w/a Horn Gating System & 2″ Insulating Sleeves 5 Core Boxes are Required

3 Core Boxes made in Nobake
2 Cores made on a Gaylord Cold Box using HA International Resin System

Overall Part Dimensions
Length: 20″
Width: 15″
Height: 10″
Tightest Tolerances
±.030″
Material Used
A356.2-T6 Aluminum
Finish
Shot Blast
In process testing performed

Pressure Testing

Estimated Part Weight
35 Pounds
Industry for Use
Jewelry Industry
Quantity
Over 100 units
Delivery Location
Albuquerque, New Mexico
Standards Met
Customer supplied print, 2D CAD Drawing