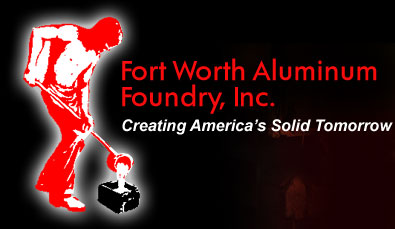 Fort Worth Aluminum Foundry, Inc. is a
Custom Manufacturer of Large & Small Aluminum Sand Castings
Using a No Bake Foundry & Green Sand Foundry
Sand Casting, Machining & Assembly of A356-T6 Aluminum Antenna Positioner for the Satellite Antenna Industry
With many years expertise providing premium casting services for a wide variety of components, Fort Worth Aluminum Foundry was requested to produce a series of aluminum antenna positioners for the satellite antenna industry. By combining our sand casting and assembly operations, and outsourcing any necessary machining processes unable to be completed in-house, we were able to successfully build these parts based off a customer supplied print. We helped make 100 units for this client, packaging and shipping all finished products to their facility in Orland Park, Illinois.
To begin this project, the upper, lower, and middle carriages of each unit were first sand casted. Then, using automatic milling machinery, these components were turned and milled complete. CNC machining operations included the drilling and reaming of all holes, removing of all burrs, and milling of all profiles. It also included the turning of all drive screws and guide rods. A prime and chemical film coating was then placed on both the upper and middle carriages of the aluminum antenna positioner, which helps retard future corrosion. The lower carriage was vacuum impregnated, primed, and painted.
After all parts were properly machined, one Keensert and one drive screw were then installed on both the upper and lower carriages, and anti-seize was applied to the threads. Four unlubric bearings and one oil-less bronze bearing with loctite was attached to the middle carriages. We then joined the upper and lower carriage to the middle carriage of each positioner using 4 guide rods and 8 self-locking retaining rings.
Upholding a (±) .002 of an inch precision tolerance, with a (±) 1 degree tolerance and a parallelism of .001 of an inch, the upper carriage was constructed to possess an outside diameter of 12.7 inches. The lower carriage was built to have an outside diameter of 12.2 inches and a height of 2.625 inches, and the middle carriage to have a length and width of 6.26 inches. We also provided each unit with a smooth, 125 RMS finish. We inspected each assembly to ensure that the carriages move freely and the drive screws align correctly with the middle carriage.
With the ability to provide our customer 100 aluminum antenna positioners, Fort Worth Aluminum Foundry was able to successfully complete this project, meeting all of our client's product demands. The aluminum antenna positioners fulfilled our buyer's expectations for quality workmanship.
Specifications
Product Name
Antenna Positioner
Product Description
This Antenna Positioner is used within a custom antenna application.
Capabilities Applied/Processes

Sand Casting

Cast Upper, Lower, and Middle Carriage

CNC Milling & Turning

Machine Upper, Lower, and Middle Carriage Complete

Mill Profile
Drill & Ream Holes
Remove Burrs and Sharp Edges

Turn Drive Screw Complete
Turn Guide Rod Complete

Impregnating/Priming & Painting

Chem Film and Prime & Paint Upper Carriage
Vacuum Impregnate and Prime & Paint Lower Carriage
Chem Film and Prime Middle Carriage

Installed 1 Keensert & 1 Drive Screw (Apply Anti-Seize to threads) to Upper Carriage
Install 1 Keensert & 1 Drive Screw (Apply Anti-Seize to threads) to Lower Carriage
Install 4 Unlubric Bearings and 1 Oil-Less Bronze Bearing w/ Loctite to Middle Carriage
Join Upper & Lower Carriage to Middle Carriage using 4 Guide Rods and 8 Self Locking Retaining Rings

Packaging

Equipment Used to Manufacture Part
Automatic molding machine 20 x 16 B&P
Overall Part Dimensions
Upper Carriage:
O.D.: ø12.7″
Lower Carriage:
O.D.: ø12.2″
Height: 2.625″
Middle Carriage:
Length: 6.26″
Width: 6.26″
Tightest Tolerances
±.002″
±1°
Parallelism of .001″
True Position of ø.002″
Material Used
A356-T6 Aluminum
Surface Finish
125 RMS
In process testing performed

Inspection of each Assembly

Ensure Carriage Moves Freely
Ensure Drive Screws Align w/ Middle Carriage

Industry for Use
Satellite Antenna
Quantity
Approximately 100
Delivery Location
Orland Park, Illinois
Standards Met
Customer supplied print, 2D CAD Drawing