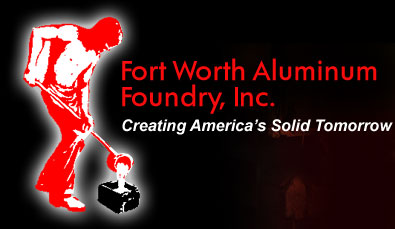 Fort Worth Aluminum Foundry, Inc. is a
Custom Manufacturer of Large & Small Aluminum Sand Castings
Using a No Bake Foundry & Green Sand Foundry
Custom Aluminum Sand Castings
At Fort Worth Aluminum Foundry, Inc., we are dedicated to providing high-quality, friendly service and are focused on meeting all of our clients' custom aluminum sand casting needs. We are well-equipped to handle almost all casting projects and can handle casting weights up to 1,000 pounds. Casting patterns can be manufactured in aluminum, urethane, or mahogany. In addition, we work with a variety of aluminum alloys, including A356, 363, 357, 319, and 713.
At Fort Worth Aluminum Foundry, we manage turn key products, ensuring that all other necessary operations, such as machining, coating, and anodizing are accomplished after the sand casting process is completed. We are committed to providing safe, health-oriented services, and have passed all OSHA tests. In addition, we received the Texas Commission on Environmental Quality C2 award, which certifies that our custom aluminum sand casting operations comply with the state of Texas and the EPA's air and water regulations.
We invite you to contact us to learn more about our premium custom aluminum sand casting operations. Committed to providing quality casting services since 1972, Fort Worth Aluminum Foundry provides a number of secondary capabilities, including, but not limited to, assembly, engineering, heat treating, and powder coating. Call us today for further information!
Custom Aluminum Sand Castings Specifications
Casting Process
No Bake
Green Sand
Casting Weight
Max
1,000 lbs
Tolerance (+/-)
±.030 in
Materials (Metals)

Aluminum

Pattern Materials
Aluminum
Mahogany
Urethane
Equipment

B&P Automatic Molding Machine

B&P Speed Muller
Overhead Computerized Sand Delivery System
Heat Treatment Furnace

Additional Services Provided

Anodizing
Assembly
Engineering

Material Selection
Manufacturability

Heat Treat

Solution Precipitation (Drop Bottom Solution)

Inspection
Machining
Painting
Plating
Powder Coating
Welding

Turn Around Times
Rush Services Available
Inventory Services Available
Production Volume
Prototype
Low Volume
Short Run
High Volume
Large Run
Intended Applications

Conveyor Equipment
Gear Blanks
Highway Sign Clips 
Pumps
Valves

We can meet a large variety of your casting needs, if you don't see yours here please inquire.

Industry Focus

Agricultural
Architectural/ Building
Electrical
Energy

Solar
Oil & Gas
Wind Power

Highway/Transportation
Marine
Medical
Railroad
Signage

Industry Standards

Aluminum Association
Mil-Spec
Military Specifications
OSHA
Texas Commission on Environmental Quality

File Formats
BMP – Bit Mapped Graphics
GIF – Graphics Interchange Format
JPG or JEPG – Joint Photographic Experts Group
PDF – Portable Document Format
TIFF – Tagged Image File Format